Help with Divorce & Co-Parenting
CO-PARENTING HELP

If you and your co-parent are finding it difficult to navigate the task of raising your children, there are a number of interventions that can be helpful. A Parenting Coordinator or Co-Parent Counselor can walk you through each complicated step of staying out of conflict for the sake of your kids. Learn how to set boundaries with one another and get on with your life! The Center for Navigating Family Change offers the following co-parenting interventions: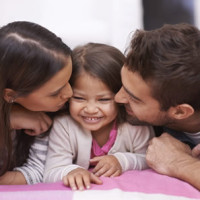 Co-Parent Counseling (confidential — counselor does not testify or report to the court): This is a short-term intervention (6-8 sessions) designed to help co-parents refocus their relationship from its former emotional/romantic style to a new practical and business format. A Co-Parent Counselor can offer the tools and strategies to guide co-parents into a new way of thinking about how to raise their children without conflict. Cost is $150 for each one-hour session. For more information, contact CNFC by emailing info@cnfc.org or call 404-592-1257.
Judges, attorneys and guardians ad litem: Click on the Information for Professionals box on the home page to view a standard Order for Conflict Assessment so that CNFC can help you determine which intervention is best for clients!
Parenting Coordination (not confidential — coordinator could testify or report to the court): This is a long-term intervention (6-18 months) that is designed to address high-conflict co-parenting relationships in which there is a history or high risk of chronic litigation. Children suffer greatly when their childhoods are defined by co-parent conflict, especially the type that leads to constant court intervention and the child being forced to choose a side. A Parenting Coordinator will not only help co-parents refocus their relationship onto the needs of the children, but also help them resolve conflicts on a regular basis, rather than using the court system as their first choice of resolution. Parenting Coordinators are trained to teach, model and guide parents to engage in appropriate professional communication. They also may speak with other involved professionals, and the court if necessary, to assist both parents in adhering to the mandates of the court-ordered parenting plan in a peaceful manner. Cost is $150/hour for both in- and out-of-session work. For more information, contact CNFC by emailing info@cnfc.org or call 404-592-1257.
Click here if you are looking for a service professional in your area (attorney, therapist, mediator, financial consultant, etc.) with specific experience in helping divorced and separated parents. These are sponsored links and CNFC does not endorse these professionals, nor can it make any guarantees about your experience with them.
OTHER HELPFUL RESOURCES

The below web site links are provided as additional resources to help you navigate family change. CNFC does not specifically endorse any of the businesses or services represented by these links. If you find a particular web site helpful, please e-mail us and let us know by clicking on the Contact link below.
Click here for a sample court order if you and your co-parent would like a structured communication protocol to become part of your court-ordered parenting plan. Having a structured way to communicate detailed in your order gives you a default choice in case the tension between you becomes great and you can't seem to find a way to accomplish the necessary business needed to execute your court-ordered parenting plan (e.g. major decision-making). Just like everything else in your court order, it will be your default position in case either of you begins to feel that the communication between you is toxic instead of practical and helpful.
Click here for the guide, Planning for Shared Parenting: A Guide for Parents Living Apart. This booklet was put together by the Massachusetts Chapter of the Association of Family and Conciliation Courts (AFCC) and has been adopted by many professionals as a helpful aid in arranging parenting plans based on the ages and developmental stages of children.
Click here for a list of non-profit organizations and community agencies that may be able to provide information and resources as you and your family go through transition.
Click here for a list of books related to divorce and family change. It is not a comprehensive list, but some of CNFC's favorite titles. If you find books that are helpful to you, feel free to click on the CONTACT link and e-mail us a short review and we will consider adding it to our list.